How do I download the free MS Office apps on my personal computer?
Posted by on 09 June 2011 04:01 PM
Q: How do I download the free MS Office apps on my personal computer?
A: All active students, faculty, and staff have a license provided by Warner Pacific University to download Office on their personal computer.
How?
Login to https://portal.office.com with your Warner email address and password
Once on the home page, you'll be able to select Install Office -> Office 365 apps which will immediately download all office apps on your computer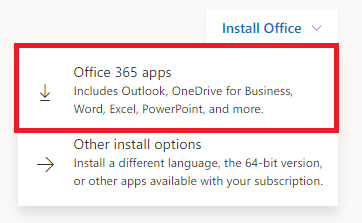 3. If you only want Word or Excel, you can delete the other apps once installed since they will install as a package.
Frequently Asked Questions (from Microsoft)
What is Office 365 Education for Students?
Office 365 Education for Students is an Office 365 plan that is available for free to students who attend academic institutions that have purchased Office for faculty and staff available at www.Office.com/GetOffice365. This plan allows students to install Word, Excel, PowerPoint, Outlook, OneNote, Publisher, and Access on up to 5 PCs or Macs and Office apps on other mobile devices including Android, iPad®, and Windows tablets. The plan also includes 1TB of OneDrive storage, managed by the school, and students can edit and collaborate using Office Online, Yammer, and SharePoint sites.
What are the eligibility requirements for Office 365 Education for Students?
Schools qualify for this benefit when they have licensed Office institution-wide for their faculty and staff through Microsoft's Volume Licensing program and are enrolled to allow students to sign-up directly with Microsoft. Active full- or part-time students at qualifying schools are eligible if they:
Have a school-specific email address provided by the school (for example, contoso.edu) that can receive external email
Are of legal age to sign up for an online offer individually (13 years old)
Have Internet access
How long can I use this plan?
If you are eligible, you can use the plan until you graduate or are no longer enrolled at a qualified school. Student eligibility may be re-verified at any time. At expiration, the Office applications enter a reduced-functionality mode, which means documents can be viewed but it isn't possible to edit or create new documents. In addition, online services associated with the school email address, for example Office Online and OneDrive, will no longer work.
Who manages the One Drive account provided with this offer?
This account is associated with the school and should be used for school-appropriate content, such as homework and schoolwork. Permissions and access can be changed by the school's IT administrator at any time.
Can I share the plan with others?
Office 365 Education for Students is licensed for use only by the eligible student at a qualifying school.
---